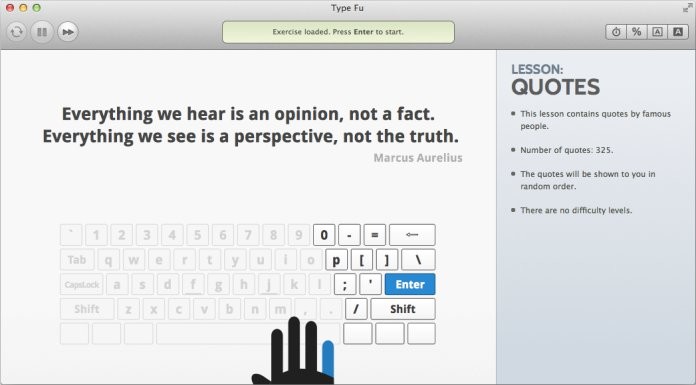 Do you want to improve your typing speed? The answer will be off course yes, because we all do. A good typing speed while working on a PC can really increase our efficiency.
Although there are many online tools available that can help you in increasing typing speed, but most of them are not as useful or not as helpful as required.
If you are a Chrome user then there is an extension available called Type Fu that can enhance your keyboard speed. Please note that Type Fu is available for Chrome as a trial version. The full version is available on Mac.
User Interface
If we talk about the interface Type Fu has a very clean and spacious looks and is very conducive to learning without any distractions. Being originally a Mac application and used for Apple Mac computers only it borrows a lot of style from Apple.
Controls are available on the top where you can pick lessons, retry or skip a lesson. There are buttons available at the top where you can see your progress statistics including settings menu. More info about the current lesson can be found on the right sidebar of Type Fu.
The main area where the whole action takes place is divided into two parts: one for the words or letters you need to type and the other that shows current keyboard layout and which key you need to hit.
Lessons
Type Fu contains hundreds of different lessons that can make you perfect in typing and you can increase your speed from zero to around 50 or 60 words per minute, which is considered as a good typing speed.
Start with the easiest lessons and gradually go to the tough ones. You can get a view of all lessons available on the right top corner of Type Fu. The lessons categories are below:
Letters – This lesson is about letters and contains an infinite number of exercises generated from random letters. There are 23 difficulty levels in this lesson and it will be automatically increased based on how you are performing. However, you can change this automatic increase in difficulty level by going to preferences on the right top position on Type Fu and deselecting 'Auto-adjust difficulty level'.
Numbers – This lesson contains practice of numbers. There are 9 difficulty levels and an infinite number of exercises. You will get a good practice of numerical digits with Numbers lesson.
Words – In this lesson you can practice typing the most common words of English language. There are over 3500 popular English words included. There are 9 difficulty levels and difficulty level will be automatically increased as you go on typing and practicing.
Proverbs – Here you will find over 300 proverbs to practice with. The proverbs are shown in random order and there are no difficulty levels in this lesson.
Quotes – As the name suggests this lesson contains over 350 quotes by famous people. There are no difficulty levels here and the quotes are shown in random order.
Keyboard Support
Type Fu supports the following keyboard layouts:
• QWERTY
• QWERTZ
• AZERTY
• Dvorak
• Colemak
• Workman
Features
The features include Speed Chart where you can check your typing speed for the current session or for the previous sessions.
Accuracy Chart shows how accurate you are while typing. It shows accuracy in percentage where 100% is the perfect.
Final Words
Type Fu started off as a Mac Application and is still available at the Mac App Store for 14.99USD if you want to experience the paid version. The full version has around three times more exercises and lessons than the trial version. There are many more quotes and proverbs available in the full version.
You don't need to buy the full version of Type Fu to increase you typing speed because the free version available with Chrome as an extension contains enough exercises to make you an expert at typing. You will surely enjoy this free typing tutor available at Chrome store.