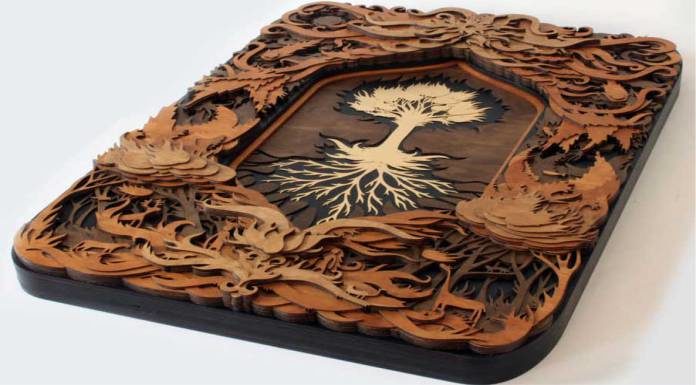 Making a profit in a new business using a laser engraving machine requires having the proper skills, putting forth a decent amount of effort and perhaps having a little bit of luck along with way.  But generally, anyone who has the desire to make a profitable business out of laser engraving can do so.
There are many different markets you can enter and be successful with a laser etching machine. Etching the plaques for trophies was one of the earliest but awards, gifts or making ad specialties are well within reach of a new or growing etching business. Many markets may seem strange at first, for as the use of lasers continues to expand, more and more exciting new uses appear. And, even though smaller single personalized jobs may be at first easier to find, the money will come with corporate and industrial markets.
Corporate market buyers will usually make their choices based on the quality of the work you do rather than the price. The money they spend comes from the corporation and not from their own pocket, so it's easier for them to sell a quality product to management than an inferior one that might cost a bit less. In both business and in the military, making the customer look good with your product means three basic goals:
Making a quality product with excellent workmanship
Delivering the product on or before the contract deadline
Creating the product exactly as specified with no errors
These concepts may seem obvious and appear easy to do, but in actuality, especially when you're rushed, mistakes can and will happen. But the secret to a successful laser engraving business in the corporate world not only requires each of these goals to be precisely met, but in the process it is critical that you build an honest, personal relationship between you and the corporate buyer.
Once that relationship is established, make sure it continues by doing the best you can to take care of your client. This can often mean doing jobs that may seem strange or unusual. Many times a corporate client will have the money to spend on a project but not have any idea what to spend it on, leaving it up to you to come up with the right product for their needs. A situation like this requires you to come up with the best possible idea or it's possible you could lose the client to the competition. If you completely run completely out of ideas, consider farming the project out to someone else and even though you won't make as much money on that one job, it will probably insure that there will be additional work for you with the client in the future.
Working with a laser etching machine for profit can be an extremely rewarding business experience. With a little hard work, careful attention to details, and the right business attitude, you should be well on your way to a profitable business venture that's fun, exciting and rewarding in the future.
Article contributed by Needham Coding