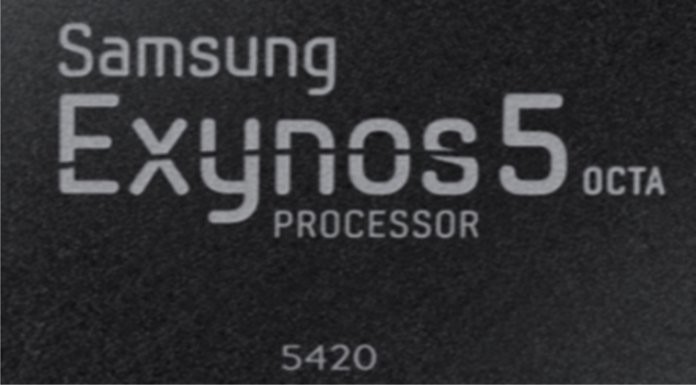 Samsung has unveiled its next generation Octa processor named Exynos 5 last week. The leading technology company from South Korea has finally unveiled the new Octa Processor and named it Exynos 5420.
The latest Exynos processor works on ARM Mali – T628 MP6 cores and supports 3D graphics and the processing time is two times faster than its predecessors – Exynos 5 Octa processors.
Exynos 5420 processor is based on a big.LITTLE configuration where on one side it is powered by four ARM Cortex-A15 processors at a speed of 1.8GHz and on the other side by four additional Cortex-A7 cores at a clock speed of 1.3 GHz.
According to Samsung Electronics System LSI marketing vice president Taehoon Kim, the demand of richer graphics is growing at a fast pace nowadays. To meet this demand, Samsung has developed this processor having superb graphical performance without compromising on power consumption.
A good feature of the new Exynos 5420 is that it supports multiple image compression (MIC) IP block inside the System that lowers the power consumption of CPU while bringing multimedia and pictures from system memory to the display panel. This feature also helps in reducing battery consumption on a very high-resolution such as WQXGA (2500×1600). This is very useful while browsing web or running any multimedia application where frequent screen refresh is required. Exynos 5420 has a memory bandwidth of 14.9 gigabytes per second and a dual-channel LPDDR3 at 933MHz that provides faster data processing and full HD display while using Wi-Fi.
The two Quad-core CPUs of Exynos 5420 support Heterogeneous operation, and they can be easily switched based on tasks and work load. This type of operation helps in efficient power consumption with maximized performance.
According to Samsung, the new Octa core processor is currently available as samples to customers and mass-production will start in August.
There is no information on which devices will have the new Exynos processor. There are rumours that the next upcoming phone in the Note series, the Galaxy Note III may be powered with Exynos 5420.